| | |
| --- | --- |
| Institution / client name: | Harvard Business School, Baker Library |
| Project name: | HBS Working Knowledge |
| Date: | June, 2006 |
| Role(s): | Product design, project management, vendor management |
"HBS Working Knowledge is a forum for innovation in business practice, offering readers a first look at cutting-edge thinking and the opportunity to both influence and use these concepts before they enter mainstream management practice." (http://hbswk.hbs.edu/aboutus)
Working Knowledge was awarded recognition as a 2007 Webby Honoree in the Education category. Please visit Working Knowledge on the web.
Baker Library undertook a complete redesign of HBS Working Knowledge, its flagship publication. The production model also changed from being published anew once a week, to being continuously updated according to a schedule. My role was to drive the user experience design and the production process to a successful conclusion. The project team included the Working Knowledge editorial staff, the library taxonomist, internal programmers and production staff, and an external visual design company.
There were two main challenges I faced: (1) designing a user experience that met the current goals of the redesign and provided for future growth of the publication and (2) keeping the needs of the various stakeholder and production groups balanced and their respective goals aligned and focused.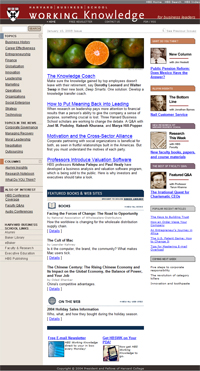 At its core, HBS Working Knowledge is built on a database of articles, each with its own accompanying metadata. The publication itself is a shell that calls for articles from the database to fill particular slots based on rules, e.g. the newest article always appears in a particular place unless it is the featured article of the week.
Navigation needed to be created to support widely different use cases: perusing broad topic areas to find articles serendipitously, and looking for articles relating to a specific set of criteria of interest. We created a model in which the left hand navigation is organized by category of interest, e.g. topic, industry, geography or faculty. Each category has appropriate options listed in the navigation. Clicking on any category brings the user to an index page for that particular category, option pair, for instance, category is "topic" and option is "business history". The user can then see a list of all articles tagged for that topic, and a list of sub-topics if appropriate. We also added an "advanced browse" feature that allows for more refined faceted browsing.
One of the first concepts I established was a common nomenclature to describe the elements of the project we were building, thereby facilitating clear communication among team members. We defined the types of pages, e.g. home page, index page and article page, and the different regions on each page. This list of pages and regions of pages became a reference for the visual, technical, and content designers, and allowed me to track and manage progress.
Because there was a clear definition of what was going onto a page, there also became clear definition of the metadata that would be required for each article. This also enabled us to create a production workflow, streamlining the process of adding new articles to the database.